The PRIGO Elementary School
The private PRIGO Elementary Schools in Ostrava is part of the PRIGO multi-stage teaching system which includes an eight-year, six-year and four-year grammar schools, several kindergartens and other schools at all levels of school education. It is based on the unique, trademark-protected PriorityGO approach to education which is based on the combination of individualization of teaching, modern didactic methods and respect for the challenges of contemporary society whereby education is perceived as a life-long philosophy and a continuous approach to life, not a mean to achieve other goals.
The PRIGO schools entered the second quarter of their existence last year. They deem important to focus on teaching English and other languages. As one of few schools, our Elementary Schools are licensed to teach some subjects in English, which is also reflected in our pupils' school reports. Our schools also include a language school with accredited state language examinations, which can be found in the school register. This is the highest certification that a school can obtain. We cooperate closely with more than 20 schools from all around the world, starting with European, through American and ending with Chinese (see here). The key element and difference from other similar schools, however, is mainly the focus on developing the children's skills and interest in nature nad technology already from their preschool years up to their possible university studies. We use the maximum scope provided to us by the Framework Educational Programme for Elementary Education, established by the Ministry of Education, Youth and Sports.
In addition to convenient premises, the individual approach and quality of education are provided by well-paid teachers, allowing us to provide the pupils with the best education and ensure their actual personality development with the subsequent preparation for secondary education. There are also two important advantages of attending a PRIGO Elementary School. Given the experience we have with running nursery schools, from which the children may enrol at the elementary school, we are able to ensure a stress-free transition to compulsory school attendance.
After finishing the elementary school or when attending it, the pupils may enrol in 8-year, 6-year and 4-year Grammar School programmes either at the PRIGO Medical and Science Grammar School or the PRIGO Language and Humanities Grammar School. Alternatively, they can enrol in various study specialisations at the PRIGO High School. As a consequence, a smooth transition to secondary education is ensured. Our secondary schools further cooperate with many universities and their teachers, which results in a relatively trouble-free transition to university studies as well.
The PRIGO schools can therefore guide your children from their pre-school years up to their university studies.
Virtual tour of the school in Ostrava
The PRIGO Elementary School Guidebook (Available in the Czech language only)
PRIGO Leaflet (Available in the Czech language only)
Projects (Available in the Czech language only)
PRIGO is a school for life as it will be. We do our best to prepare our pupils and students to succeed in their future life, despite the fact that none of us has a clear idea as to what society and life will look like in a few decades. Our philosophy is based on the ten principles of the PriorityGo approach. We strive to educate creative personalities with a strong sense of adaptability and flexibility who will be able to prove themselves successful in life both at home and abroad. Therefore, we consider the development of critical thinking as the basis for preparation for future life. We emphasize modern didactic methods and the development of general competencies in teaching. We are aware of the fact that the school itself is no longer the sole or main source of information, and that its role is to some extent assumed by the online environment in the present time. That is why modern technologies are particularly important for us. We use mobile devices and the Internet environment not only as a part of teaching, but also in all other activities associated with attending the school. Our goal is for technologies to become a natural part of life, a tool for solving problems and simplifying work and life in general, not as a mean of consuming free time and replacing one's personal social ties. Meanwhile, we respect the traditional values and our cultural-historical environment.
We are a smart school. Our priorities include connectivity, electronic communication, and transparency. An emphasis is placed on safe work with technologies. For the last five years, we have significantly changed our approach to information and communication technologies and their meaningful involvement in teaching and other activities. While the principle "Bring your own device" was implemented at first, whereby the personal devices of pupils and students were appropriately involved in teaching, we are moving forward in this school year. At the PRIGO Elementary School, iPads and Apple TVs are being used on suitable occasions in all classes.
But we take things even further! From September 2021, a new system of teaching individual subjects based on work with information and communication technologies will be implemented at PRIGO schools. At the PRIGO Medical and Science Grammar School, all new students enrolled in our eight-year grammar school programmes as well as those students who will start the IB Diploma Programme (International Baccalaureate) will receive iPads, and so will their teachers. In the upcoming years, all our other pupils, students, and teachers at PRIGO schools will be gradually equipped in like manner. All devices will always be new, it will be possible to use it for school, extracurricular and personal needs, and after successful completion of the study, it will be left to the personal ownership of the pupil or student for a symbolic or residual price.
The Elementary School in Ostrava
These are well-accessible facilities in Mojmírovců 42 street in Ostrava-Mariánské Hory – a quiet residential area in the middle of urban greenery and nature. The school includes a large garden.
Each classroom is equipped with an interactive whiteboard, which is used not only for language teaching, but also for teaching other subjects or for entertainment purposes. Recently, Apple TVs have been set up in classrooms, and both teachers and pupils have laptops and iPads with Apple Pencil at their disposal. The instruction of English at school and the after-school childcare for pupils are realized by native speakers who speak English exclusively with the children. We strengthen the reading literacy by providing each classroom with a small library, which is continuously updated according to the choice of the pupils themselves at the expense of the elementary school. In addition, we recently built an outdoors, specialized PASCO classroom dedicated to school experiments or a special language classroom.
Mentoring at PRIGO Elementary School
Personal approach is one of the priorities of the PriorityGO concept which we apply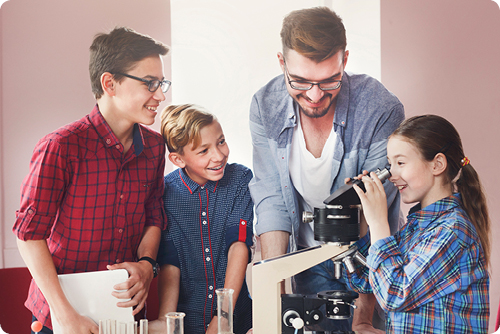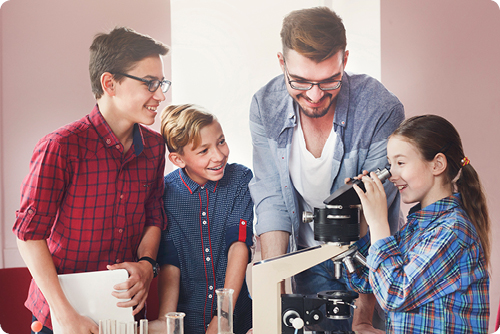 throughout our schools. Based on the interconnection within the PRIGO schools group and the fact that it includes all levels of education, we have a unique opportunity to offer our students the possibility to participate in the new BuddyGo system, which moves the meaning of 'personal approach' to the next level. Targeted mentoring connects different levels of education in the group of PRIGO schools. This way, our students develop the today's highly valued qualities such as responsibility and activity on the mentor-side, and easier integration on the mentoree-side.
New school, new environment, new classmates and teachers – at PRIGO, we take personal approach seriously. Our elementary school runs a mentoring programme, which benefits from the synergy of the PRIGO schools group, and takes the form of individual mentoring where each pupil of the elementary school, i.e."Buddik", has his/her mentor, "Buddy", a partner and guide selected from a lower class of high school, who assists him/her in both school and extracurricular activities as well as helps him/her in the transition process to high school in the future.
Moreover, our elementary school runs a general mentoring programme where interaction between younger and older children takes place, either within the primary school itself, or in cooperation with high school and university students through various events.
If you are interested to discover how mentoring looks like at PRIGO, you can take a look here.
International Cooperation
The elementary school has a long-term cooperation agreement with the Polish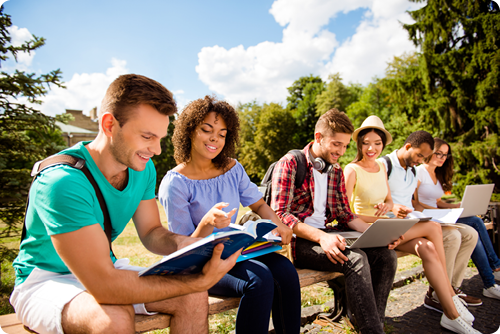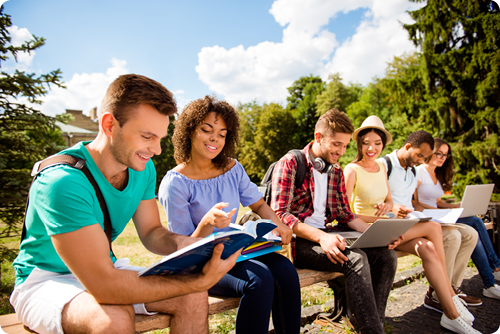 elementary and nursery school in Racibórz, Poland. The chidlren from PRIGO go to Racibórz school, local arboretum and castle in the framework of  the so-called "project days". The children from Racibórz school, on the other hand, go on trips to our school and kindergarten. These mutual visits are prepared in the spirit of a particular project for children, always with a specific focus on, for example, technology, history, etc. We have also established cooperation with the foreign university University of Cambridge, where cooperation should take similar form as with the partner school in Racibórz. In the upcoming years, we will strive to participate in other international long-term projects such as Comenius, Erasmus etc.
It is worth noting that PRIGO cooperates with more than 20 foreign schools, starting with Great Britain, France, Germany and Austria, through American schools and ending with several Chinese schools (click here). International exchange of students and teachers thereby makes it possible to accelerate the boosting of language skills and the education of our students then acquires an international dimension. Additionally, we offer our students and teachers short-term and longer study or work stays abroad.